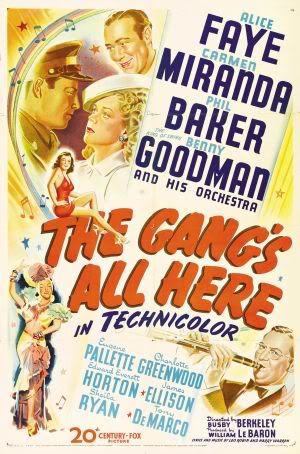 This week's Silver Screen Sunday takes a look at Busby Berkeley's 1943 movie
The Gang's All Here.
Now this bran of musical is not a particular favourite of mine - I much prefer the song's to be integrated as part of the plot and used in lieu of dialogue in certain parts. But it's still fun to watch this type especially when it comes to this film. The plot may be a little thin but there are some very good tunes (Benny Goodman and his orchestra appear in it!), a little bit of swing dancing, lots of amazing costumes, very big hair (which I go mad for) and the Lady with the Tutti Frutti Hat!
Her costumes may not be particularly practical for day-to-day wear but you can't say they're not colourful or fun, can you?
"Some people say I dress too gay, but every day I feel so gay, and when I'm gay I dress that way, is something wrong with that? Noooo!"
Other things I practically swooned over in this film:
Amazing and, sometimes, ridiculous hats. When Mrs Peyton Potter, played by Charlotte Greenwood, sees Carmen's hat in the bottom left, this is what she says: "That hat! I'd better watch my lampshades and bell-cords!"
Alice Faye's incredibly pretty pink dress. I think I may have squealed when I saw this. It's the perfect shade of pink!
This was the closest I could find on etsy. It's not quite as deep but it's just as pretty! Found
here
.
Then there was all the long, long hair. I have had the feeling to get my hair cut a bit shorter so I can style it to some of the cute '30s styles I like. Then I watched this movie and decided my hair needs to be longer again. (The girl with the shorts and long-sleeved blouse in the bottom right has the longest hair in that shot but Alice Faye's hair is fairly long, too).
Instead of looking for dresses on etsy, like I usually do, I took some inspiration from Carmen and looked at some fruity jewellery instead.
I'm quite taken with these cornucopia earrings. I would mind having them for myself! Found
here
.
These little clustered earrings are just darling! Found
here
.
I also wouldn't mind having these. Too bad my birthday's so far away! Found
here
.
This little set is really quite nice. Found
here
.
And here's a rather bizarre sequence involving giant bananas.
I've edited this to add one thing: last week
Dorthe Mey
asked me where I get all of my DVDs from. My answer is that almost all of my DVDs have been bought in stores here. A few have been from
amazon
(check at the bottom of the site and you should find that there are international sites, too) but, other than a few exceptions, I buy them all in stores around Adelaide.
Atlantic DVD
is apparently the biggest region 4 DVD store (self-proclaimed) but I also find
Ezy DVD
to be a fairly decent resource, for region 4 DVDs. I'd also note that they'd be largely in PAL format. Kate of Silents and Talkies has offered to
share her DVD collection
and Raquelle of Out of the Past wrote on '
How to be a Classic Film Fan Without TCM
'. I hope that helps a little bit!
Love,
Andi B. Goode
x
P.S. Would anyone be able to recommend some online resources about knitting from vintage patterns? Anything about Australian/British patterns would be the most helpful. Thanks in advance.