If you want a historically accurate account of the Chess Records story, this is not it (it takes a few artistic liberties) but I think it is true to the spirit of the music created by the artists on the label. As well as scenes of Leonard Chess discovering various artists (though he didn't actually discover Etta James) there are re-staged recording sessions and live shows together with stock footage of the era and dramatic scenes about romances between the different figures, some of which occurred, others of which appear to be fabricated.
I think Beyonce does a great job as Etta James – her voice, alone, is amazing but I think she's kind of wonderful, in general. And the dresses she wears are fantastic, too.
I think some people might have had an issue with Beyonce covering Etta...but her voice is every bit as beautiful, in my opinion. So beautiful, in fact, that I didn't even get distracted by Adrien Brody's face in this scene (which I find rather lovely, in case you were wondering).
There are so many well-dressed men in this film (but considering the parts they are playing, it's hardly surprising) – I think my favourite is Mos Def as Chuck Berry. Chuck's style was quite outrageous but, like other rock 'n' roll singers of the time (I'm thinking Little Richard and Jerry Lee Lewis, off the top of my head), the style suited the music he played.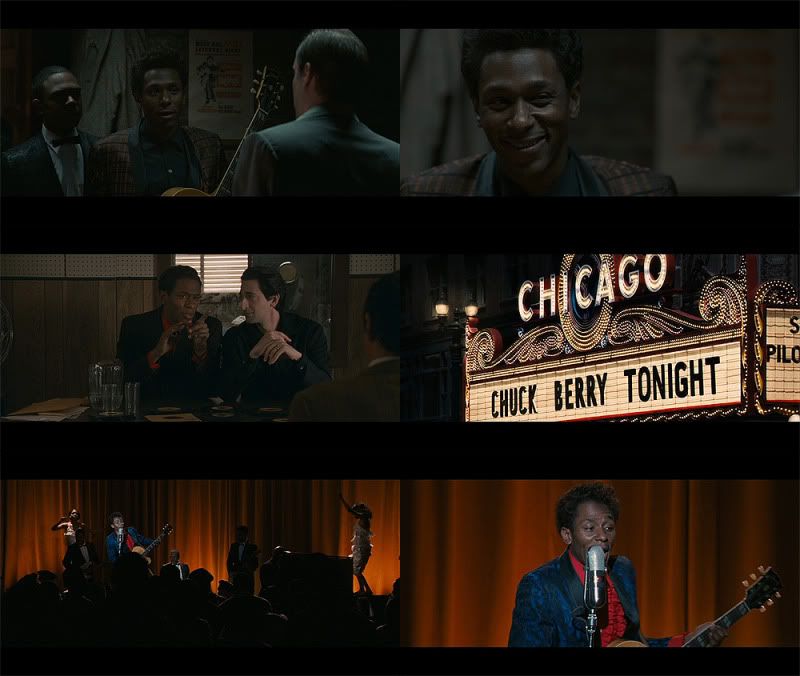 Little Walter, played by Columbus Short. I did a Musical Interlude post about him after first watching this film, which can be seen
here
.
Jeffrey Wright as Muddy Waters.
I will say that when I was doing the screencapping for this film I got awfully distracted by a number of things: fantastic music, gorgeous men (it was very difficult for me not to turn this post into one long swoon) and Beyonce's beautiful voice (it gave me chills).
Ultimately, Cadillac Records presents us with an important part of popular music history – the influence of the various artists is so widespread and the film alludes to this too (The Rolling Stones, for instance, make an appearance and some title screens at the end tell us that Eric Clapton paid for Howlin' Wolf's headstone after he passed away). Even though you may not come away equipped with an entirely accurate view of the history of the record label, I think it will definitely create a thirst for the music of the artists (if you weren't a fan before, of course).
As always, I have added screencaps from the film to my
flickr stream
and, for the second time in a row, I've not gone away to find items that I think fit the film. I'm not sure why, but nothing seemed to work so, for now, I'm letting the film speak for itself. I always feel like I have something more to say but can't quite articulate it...never mind. (Then again, both could just be because of all of the eye candy distracting me!) Hope you all enjoyed this week's (belated) Silver Screen Sunday!
Love,
Andi B. Goode
x