I've just finished re-watching Pushing Daisies...again. How I wish this show had just had one more season. I think that could have capped it off perfectly. Too much and it may have gone the road of so many other shows that inevitably jump the shark, but being cut short at just two seasons was such a terrible shame. Sigh. Of course, now I just want to dress like Lonely Tourist Charlotte Charles every day.
With only two episodes left of this series of Penny Dreadful I'm getting pretty excited! I don't want it to end but I want to see how it's all going to wrap up. I believe it's been renewed for a second series which only increases my excitement. I'd watch anything with Eva Green in it but I am thoroughly enjoying this show. I think it does a very good job of bringing various characters of Victorian stories to life and weaving their stories together in a believable way.
Speaking of excited, Teen Wolf starts again next week - I'm not sure if I'm ready for it! Eep.
I've been letting my movie watching fall behind but I did finally get around to seeing
Maleficent
. I really loved it. It's nice to see different kinds of 'true love' are being showcased in fairy tale movies, and I really liked Maleficent's character development. It wasn't perfect but I liked it a whole lot. I enjoyed the bits of humour injected into the film, mainly with Maleficent's dislike of/awkwardness toward children and the interactions between Maleficent and Diaval (Sam Riley). And the costumes are quite gorgeous.
This write-up
summarises some of the reasons I liked it so much.
OK, this isn't a book, as such, and I'm not actually reading it (again) but my thesis is all bound! And in the baby pink I've been dreaming of all year. It was actually really exciting to pick these up. When I went in to get it done, I looked through the colour options and settled on a light blue. Luckily, I mentioned I really wanted pink because the man working there said 'well, we do have pink we just don't advertise it!' Apparently most people want a hot pink but it was my perfect pink and I was so happy.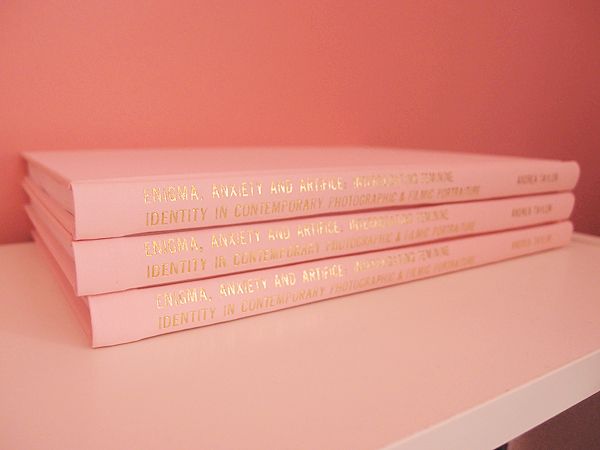 In case you can't read the spine, the title of my thesis was 'Enigma, Anxiety and Artifice: Interrogating Feminine Identity in Contemporary Photographic & Filmic Portraiture'. Unfortunately none of these copies are for me. I have to save my pennies until I can afford a copy of my own.
I've also finally started making my way through this. I can't seem to concentrate on novels lately, but I seem to be doing OK with this book. I figured I should read some of the non-fiction books that have been sitting on my shelves for years and, as I'd attempted this before, started with this one. It's a very smooth read, so far - it's not dry like some other film books I've read in the past.

I'm not sure if I'll follow up with the other book on film noir that I have, or maybe delve into one of the art history texts I never really got around to reading when I was actually studying. Oops.
Well, I've been listening to this and that, lately, but today I'm favouring Beyonc
é
again. I've mainly been listening to
B'Day
on repeat - such a great album.
Get Me Bodied
is probably my favourite song on the album and it sure doesn't hurt that this amazing video is inspired by
my favourite scene in Sweet Charity
.
The dancing in the music video is so impressive but, then, when is Beyonc
é
's dancing not impressive?
And, of course, it's always a delight to revisit this perfect video.
Oh, and my blog is
now on Facebook
! Let's hope I remember to use the page regularly.
What have you been watching/reading/listening to lately?