This post is brought to you, yet again, from my phone! I just don't seem to leave myself time for outfit photos, these days - got to work on that. If you follow me on Instagram, you've probably seen these outfits, already. Anyway, here is a roundup of some of my ensembles from roughly the last month.
I love this outfit (which is mostly from ASOS) a whole lot but it certainly wasn't comfortable. The lining of the dress is just horrible and the shoes cut into my ankles very badly. I'm hoping I can break them in because they're adorable.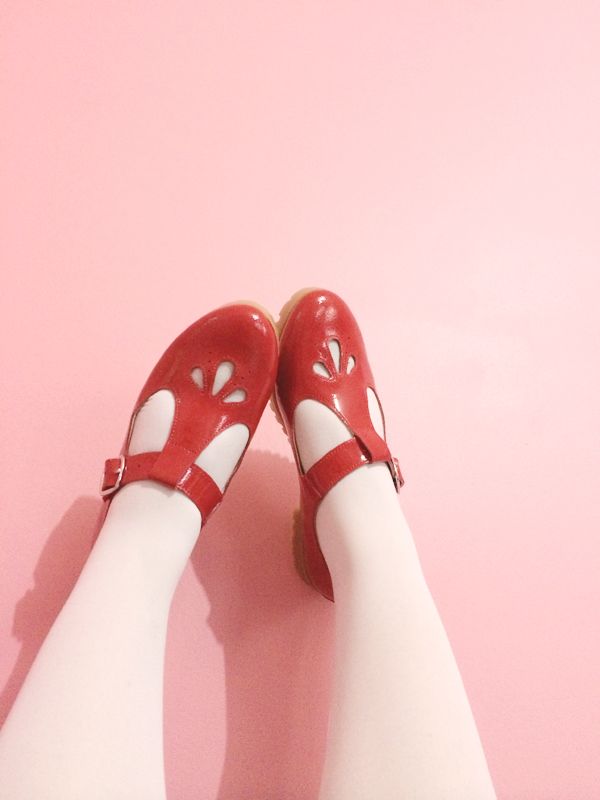 See? Adorable!
I love this lip print shirt from ASOS. There are a lot of super cute blouses out, lately, which I'm trying to stock up on. This is one of those boxy blouses, which I don't really like, but tucked into jeans or a skirt it's OK.
When I first got this dress I deemed the above-the-knee length too short. So, down came the hem! Now I refuse to wear dresses that are below the knee because I feel uncomfortable in them, so up went the hem again. It's not the best winter dress (too thin!) but I wanted to wear it ASAP. I think it'll stay in the wardrobe until warmer days, now, but I'm glad it got an outing.
This cardigan is a bit too small and quite itchy but the beading is just so gorgeous, I don't care.