Wow, my blog is now five years old! Can you believe it? I almost can't.
I've been tweaking my layout for a while now but I've decided to officially 'announce' the new look, today. With my blog's new look, there is a new focus (well, sort of). I guess it's been more of a slow transition than an abrupt change, but that's because that's how life goes. I've even finally redone my
about me page
! Huzzah.
Leaving everything until the last minute, as is my usual fashion, I don't have much planned for this post but I thought it'd be fun to take a look at my first ever outfit posted on here, compared to the most recent. Oh, and you can use the code
HAPPY5
to get 25% off of everything in
my etsy shop
until the 19th.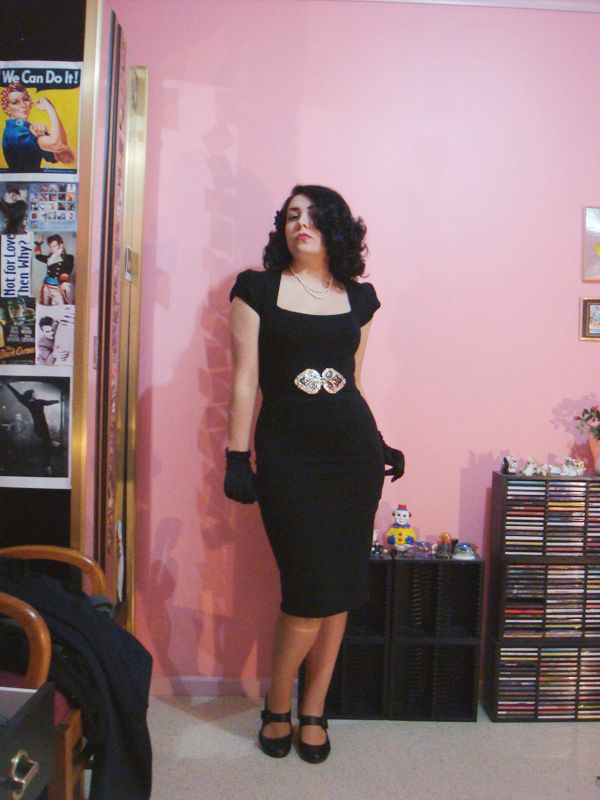 Coincidentally, my most recent outfit also features a black pencil skirt (well the first was a dress but the similarities are still there).
I was going to do a list of my favourite posts and my most popular ones but, well, as I mentioned I left this 'til the last minute. My top post (in terms of hits) is my
'How I made my Rockford Peach costume
' post, which is awesome. I know I get a lot of hits from people looking how to make one - I just hope my post is helpful. That costume is still one of my proudest moments.
Thinking about it, I'm not sure I could rank my favourite posts, anyway. I always loved my
Silver Screen Sundays
- they were fun! Going back through my archives, I'm finding outfits I forgot about and some I'd rather not remember. But that's what I love about documenting (even a small portion of) my life, online, in this way. Anyway, enough navel-gazing. Thank-you to everyone who has ever supported my blog - maybe next year I'll do something to celebrate properly.
Oh, as well as a new layout, I finally have a
Facebook page
. Let's hope I remember to use it. And while I'm plugging, my friend and I started a new project:
Vicious Peril
! Check it out if you like.
(Remember to use the code
HAPPY5
for 25% off
my etsy shop
.)