This is a post I've been meaning to do for a while but have only just got around to it. If you follow me on Twitter or Instagram, you'll already know this. But for those who don't: I now have a tattoo! I got my first tattoo on the 17th of July and I couldn't be happier with it.
It was done by Sarah K who owns Pink Flamingo Parlour and she was so super lovely that I felt a lot more at ease than I thought I would. It was still 3 hours of pain but, you know, with good company! Her eye for colour is excellent and really suits my tastes. (You can follow her on Instagram @sarahktattoo)
My perfect Barbie tattoo. (But not a perfect photo). Sarah posted a photo of some one-off ideas she wanted to tattoo, right at the moment my friend & I were discussing how I decided this year I would finally get a tattoo. When I saw the design, I could hardly believe my eyes. This was more or less what I'd been picturing since I decided I wanted a Barbie tattoo. So, I emailed Sarah and the rest is history. She was really happy the design went to someone who actually collects Barbie, as well.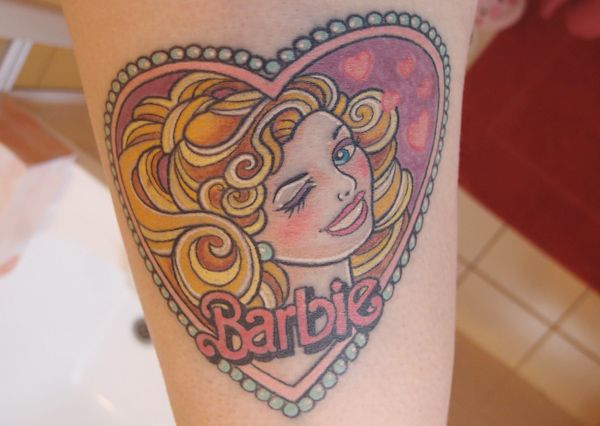 Note: it does look a bit patchy (in case anyone noticed) but I bled a lot in that purple area with the hearts in it so the scabbing pulled some of the colour out. I didn't want to draw attention to it, but I also didn't want anyone to think it was dodgy work!
Taking photos of your own thigh and have them not look totally bizarre is super hard. Next time, I'm getting some help!
I definitely have more planned but it might be a while before I'm brave enough again (and have the money). And that's my tattoo story.